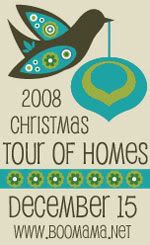 Hey everyone, come on in....
Here are a few of my favorite things around the house.... would you like some Tea?



Enjoy the tour!!


This is our Daughter Paisley's Stocking. I think it is adorable!!


This is our annual tradition. We write down on a piece of paper our accomplishments. Decorate a clear glass ornament, and seal it up. When Paisley goes off to college, she will have all the previous years ornaments to cherish, or open and learn about her past! 


This is our newest Tradition in our household... this is Jingles. The "Elf on a Shelf" 


One of my favorite frames, and favorite photos from a few years back!


This is our newly remodled Ginger Bread House. Quite nice I think! 


Don't mind the cuteness in the photo- that's just my Paisley!


And last but not least....



Merry Christmas from our home to yours!